Philadelphia, Pennsylvania
Philadelphia International Airport (PHL)
7 miles/15 minutes to Citizens Bank Park


WHERE TO STAY? Hotels Near Citizens Bank Park
Unlimited budget- all three options are within 4 miles of Citizens Bank Park
Moderate budget
Holiday Inn – Philadelphia Stadium (walking distance from Citizens Bank Park)
Chaser budget traveler – both options are within 5 miles of Citizens Bank Park
Embassy Suites Philadelphia - Airport
Travelodge - Philadelphia
WHERE TO PARK?

The Philadelphia Phillies offer a number of parking lots surrounding Citizens Bank Park. Car parking is $18 and can easily be found on all sides of the ballpark. Come early as some parking lots open up to five hours before the first pitch in order for lively tailgating. To pre-purchase your parking directly through the Phillies, click here. If you want to avoid driving in the city, catch a cab from the airport and stay at the Holiday Inn that is featured above. It is the only hotel that is within walking distance of Citizens Bank Park.
WHERE TO EAT?

Close to Citizens Bank Park and one of Philly's best kept secrets is Pastificio. Serving homemade pastas, hoagies, salads, fresh mozzarella and everything in between, Pastificio will make you want to come back a second time before leaving town.
For the true originator and inventor of the Steak & Cheese Sandwich, visit Pat's King of Steaks.  Founded in 1930 as a hot dog stand, Pat's original owners came up with the idea of a steak sandwich one day when wanting to try something different for lunch. The rest is history! Pat's is two miles from Citizen Bank Park and is open 24 hours a day, 7 days a week. 
If you are looking for the best sports bar in Philly, look no further than Chickie's and Pete's. Located within walking distance from Citizens Bank Park, Chickie's is the perfect last stop before the game or first stop afterwards. Not only do they have a multitude of televisions, but they are one of the few sports bars that puts you in the game. Patrons can play a round of golf with Tiger, bowl, compete against Mario or even attempt to be a rock band with your friends! "Play 2" is an interactive sports experience that you have to experience for yourself. After your food, drinks and play, make sure to catch Chickie's free shuttle to the game. 
The Reading Terminal Market is one of the most diverse places in all of Philadelphia for dining. With over 80 vendors, including 30 restaurants, you can find just about everything at this farmers market.  Don't leave without sampling from the famous 4th Street Cookie Company, finding Philbert the Pig and making a donation to his piggy bank. One more thing, avoid eating the Scrapple – trust us! 
Ballpark Chasers Favorite Bar- Chickie's and Pete's
There are two restaurants within Citizens Bank Park. First, McFadden's Restaurant and Saloon is located at the 3rd Base Gate and is the place to be before a Phillies game. Come here for an amazing cheese steak sandwich and chat it up with the locals about their beloved Phillies. Second is Harry the K's Broadcast Bar & Grille which is located underneath the left field scoreboard. Ask for the poutine and see what all the fuss is about. Citizens Bank Park is one of Ballpark Chasers favorite stadiums when it comes to concession stands. This park offers a smorgasbord of options to choose from. Some of our favorites include: sandwiches from Tony Luke's and The Schmitter, Bull's BBQ and Chickie's and Pete's Crab Fries. Other favorite concession stands include: The Philly Frank & Stein stand, located behind section 134, offer specialty hot-dogs. Planet Hoagie features everything you expect to find in the city of brotherly love. Philadelphia hoagies, various vegetarian sandwiches and salads to name a few. For dessert, check out a Philadelphia favorite, Tastykakes. Chocolate Cupcakes, Butterscotch Krimpets and Peanut Butter Kandy Kakes are a perfect way to complete a Ballpark Chaser meal. 
What's new for 2016?
Federal Fried Chicken Sandwich – Boneless chicken breast with buttermilk ranch seasoning, American cheese, dill pickle and spicy Rooster Sauce, on a Martin's Potato Roll.
Sonoran Dog – hickory bacon wrapped natural casing hot dog with smoked tomatillo salsa verde, Tabasco mayo, chopped tomato and onions.
Duck Fat Fries- found at Harry the K's. 
WHERE TO BUY TICKETS?

Missing the playoffs for the fourth consecutive season, Citizens Bank Park feel to the bottom third in MLB attendance in 2015. Ballpark Chasers recommends pre-purchasing your tickets through TicketMonster.com. For that last minute ticket, you can count on a sea of scalpers working the streets before the game. However, be skeptical of scalpers outside of Citizens Bank Park. Ballpark Chasers reported that not only are bogus tickets common, but also counterfeit cash is often returned with your purchase.
WHERE TO SIT?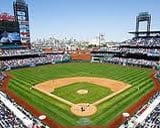 Citizens Bank Park features premium seating options available in the Diamond Club and Hall of Fame Club, which include access to the Cooperstown Gallery - A Tribute to Philadelphia baseball.  Learn more about these and other great seating options by reading the Citizens Bank Park Seating Guide.
WHEN TO GO?
July tends to be the hottest, wettest and muggiest month in Philadelphia. Spring-like temperatures stick around through April; therefore, Ballpark Chasers find the best time to travel to Citizens Bank Park is in the months of May, June and August.
WHAT ELSE TO SEE?
A trip to Philadelphia isn't complete without soaking in some of our country's richest history. Just three miles from Citizens Bank Park is Independence Hall. There you can see where Benjamin Franklin, Thomas Jefferson and John Adams announced the Declaration of Independence, where the United States Constitution was drafted and where the American Flag was agreed upon. Although tickets are complimentary, you are required to reserve ahead of time (same day is allowed).
After you work up an appetite walking around the streets of Philadelphia, make sure you fill up by taking a Philly Food Tour. This delicious 2-hour tour includes seven stops to local mom-and-pop restaurants that give you the true taste of Philadelphia. Make reservations and save room for Italian hoagies, pizza, chocolate pretzels, cheesecake, tastykakes and much more authentic Philadelphia favorites.
Another fun way to spend the afternoon and see Philadelphia is at Rittenhouse Row - a premier neighborhood filled with shopping, dining, galleries and cultural venues. Come see why this is nicknamed "Restaurant Row" and don't leave without grabbing dinner at the Palm Restaurant.
BALLPARK CHASERS VACATION?
Citizens Bank Park is part of Ballpark Chasers "East Coast Swing". This trip includes seeing Nationals Park and Oriole Park. We suggest finding the cheapest flight to Washington DC, Baltimore or Philadelphia and getting a rental car to drive in between. Expect up to a 1 hour drive from DC to Baltimore, 2 hours from Baltimore to Philadelphia and a 3 hour drive between DC and Philadelphia. Keep in mind that these times reflect little traffic but that will never happen during the weekdays. The "East Coast Swing" can easily be done in three days but plan for 5 to have time at local attractions and museums.
If your trip allows for a little extra time, there are several Minor League ballparks to see within a close distance of the Philadelphia area. Just south of Philly is Wilmington, Delaware, home of the Blue Rocks and Frawley Stadium. The Blue Rocks are the Single A affiliate of the Kansas City Royals. 
80 minutes to the west is First Energy Stadium, home of the Reading Fightin Phillies, the Double AA affiliate of the Philadelphia Phillies.  The next closest minor league park is in Trenton, New Jersey. The Trenton Thunder is the Double AA affiliate of the New York Yankees and play at the beautiful Arm & Hammer Park.