Chicago, IL
Chicago O'Hare International Airport (ORD)
21 miles/30 minutes to U. S. Cellular Field
Midway Airport (MDW)
9 miles/16 minutes to U. S. Cellular Field
WHERE TO STAY?  
Unfortunately, there are not any hotels near U. S. Cellular Field. All of our recommendations are within 3.5 miles of the stadium and tend to be more expensive than other cities. Look to stay outside of the city limits if you want to save money.
Unlimited budget
Hyatt Regency  McCormick Place
Moderate budget
Best Western  Grant Hotel
Holiday Inn & Suites  Downtown Chicago
Chaser budget traveler
Howard Johnson  Downtown Chicago
Travelodge Hotel  Downtown Chicago
Ballpark Chasers Tip: be careful when reserving a motel in downtown Chicago. There are numerous "bargain motels" around the city that will leave you wanting to sleep in your car, rather than in your motel bed.
WHERE TO PARK?

Ballpark Chasers recommend taking public transportation to anything in the Chicago area. The CTA Red Line makes stops directly outside the ballpark and is a much cheaper and stress-free option, as the parking lots tend to be a nightmare after the game. 
If you need to drive to the park, U.S. Cellular Field offers several cash lots around the stadium. Game day parking is $20 for Monday through Saturday and $10 on Sunday's. Parking can be accessed using Lots F, G and L.
Ballpark Chasers Tip: be extremely careful when trying to park in a non-designated paid lot. Street parking is rare and if it seems too good to be true, it probably is. Most street parking around U.S. Cellular Field is residential-only and requires a parking permit. 
WHERE TO EAT?

Ballpark Chasers rave about Chicago's south side Schaller's Pump. This local jewel has been in operation since 1881 and is Chicago's oldest restaurant. Schaller's is the place to go before a White Sox game if you want hang out with the local fans and relax with a good plate of comfort food. Prime rib, corned beef, and butt-steak - it's all so good!
For an authentic Chicago pizza parlor, look no further than Freddy's Pizza. Located about a mile from U.S. Cellular Field, Freddy's serves up some tasty pizza pie and will leave you wanting to walk to the ballpark to ease your full belly. Other than a great slice of pizza, they also make an amazing and quite gigantic beef sandwich. Although not our favorite item on the menu, their double sausage is popular among the locals. If you're a Ballpark Chasers budget traveler, check out Kevin's Hamburger Heaven. Even though it's not the cleanliest restaurant and does not have the nicest ambiance, they do make a mean greasy burger and shake. Ballpark Chasers also rave about 35th Street Red Hot. Use this as a quick stop for a good hot dog and a great side of freshly cut french fries. If you are running late, take it to go and bring it in with you to the game. U.S. Cellular allows outside food and drinks.
Ballpark Chasers Favorite Bar- Cork & Kerry
Once inside the ballpark, U.S. Cellular Field offers half-pound turkey burgers which can be a welcome alternative to the traditional hamburger. We also love their "build your own menus". Everything from nachos to tacos to fajitas can be made your way. Other Ballpark Chaser favorites are the Maxwell St. polish sausage and Pot Roast Sandwich. For a sit-down meal, try the Miller Lite Bullpen Sports Bar. With a valid adult ID and an additional $15, fans can sit just beyond the Right-Field fence for a great field view and a chance at a home run ball. For those fans of wine, look for the cart around the ballpark selling a selection of red and white wine, ranging from $7.50 to $9.50 per glass.
For a full-service, sit-down option, check out the new ChiSox Bar & Grill restaurant located at Gate 5 of U.S. Cellular Field. Although a ticket is not needed to enter, Bacardi's is only open on the day of a home White Sox game. 
New to U.S. Cellular Field in 2016: Bacon Cheddar Pretzel Dog, Merkt's Cheesy Beef Sandwich, and the Colossal Cookie Sunday. 
WHERE TO BUY TICKETS?

White Sox tickets are readily available same day as most home games are just over 50% full. With that being said, a "Windy City Showdown" again't the Cubs could sell out. The arrival of the Yankees and Red Sox will also bring a packed house. If you need last minute tickets, scalpers will be found outside U.S. Cellular grounds as selling tickets on-site is strictly prohibited. Ballpark Chasers recommends pre-purchasing your tickets through TicketMonster.com. 
Ballpark Chasers Tip: Check out White Sox Flash sales for select lower-level seats for only $10. 
WHERE TO SIT?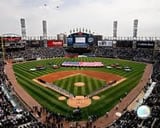 U.S. Cellular Field features upscale seating areas like the Club Level and exclusive Scout Seats. Learn more about these seats and discover other great seating options for a White Sox game through the U.S. Cellular Field Seating Guide.
WHEN TO GO?

The Chicago area is known for its extreme climates and seasons. During the baseball season you can expect temperatures gradually increasing through the summer months with the peak coming in July and August. Thunderstorms are quite common in the summer. June typically gets the most rainfall, so don't forget to pack a light jacket.
WHAT ELSE TO SEE?

The windy city offers so much to do and see that the toughest part is deciding. From the world renowned Art Institute of Chicago to the Magnificent Mile, tourists can easy spend an entire week here. One stop not to miss is Millennium Park, located roughly 5 miles from U.S. Cellular Field. The newly opened 24 acre park is home of amazing and unique art, music and architecture. Don't leave without checking out the Crown Fountain, a 50 ft. tower that projects facial images with an opening that shoots water out of the image's mouth! Another attraction at Millennium Park is the Cloud Gate sculpture. Imagine a gigantic 66 ft. long upside-down jelly bean that looks like mercury and has a mirror-like finish which reflects the viewer's image back in weird shapes. Sounds pretty cool, huh?
Another quick, fun and inexpensive destination in the Chicago area is the Willis Tower, North America's second tallest building (110 stories tall). On a clear day, the view from the sky deck allows you to see over 40-50 miles out, including Michigan, Indiana and Wisconsin. Try and time it so you can catch a sunset by arriving at the sky deck about 30 minutes before the sun sets.  
BALLPARK CHASERS VACATION?
U.S. Cellular Field is part of Ballpark Chasers Midwest Extravaganza. Plan your trip to allow visits to the north side of Chicago for a game at Wrigley Field and then off to Milwaukee to see the Brewers at Miller Park. Only 10 miles separate Wrigley from U.S. Cellular which makes it possible to take in a rare day/night double header. Miller Park can be reached by car in just under two hours from Chicago.
If you have a rental car and want to escape the city limits, head west to Geneva for some Kane County Cougars Minor League Baseball. The cougars are the Class A Affiliate of the Chicago Cubs and are only one hour from Chicago. Another close Minor League park is Boomers Stadium, home of the Schaumburg Boomers. The Boomers are located in Schaumburg, Illinois, about a 45 minute drive from the Chicago city limits.