One of the things I planned to do this season was to visit some minor league parks. I had the opportunity to visit 3 AAA parks this season, and every year, I make it out to a few Rancho Cucamunga Quakes game with my dad, who is an avid fan of Minor League ball and a partial season ticket holder of the Quakes. The 3 AAA Parks I would venture to this season would be Raley Field in Sacramento ( Parent Club....A's ) , Cheney Field in Tacoma ( Parent Club....Mariners's ), and PGE Park in Portland ( Parent Club.....Padres ) . One thing I've seemed to notice about AAA clubs is that they are in major cities but yet cities that dont quite have the market to place a Major League team. My first visit to a AAA yard would be to Raley Field in Sacramento, as the locals, the Sacramento River Cats would take on the Las Vegas 51's. ( Former Dodgers affilliate and now AAA affiliate of the Toronto Blue Jays )
RALEY FIELD, SACRAMENTO CA 4/25-4/26/2009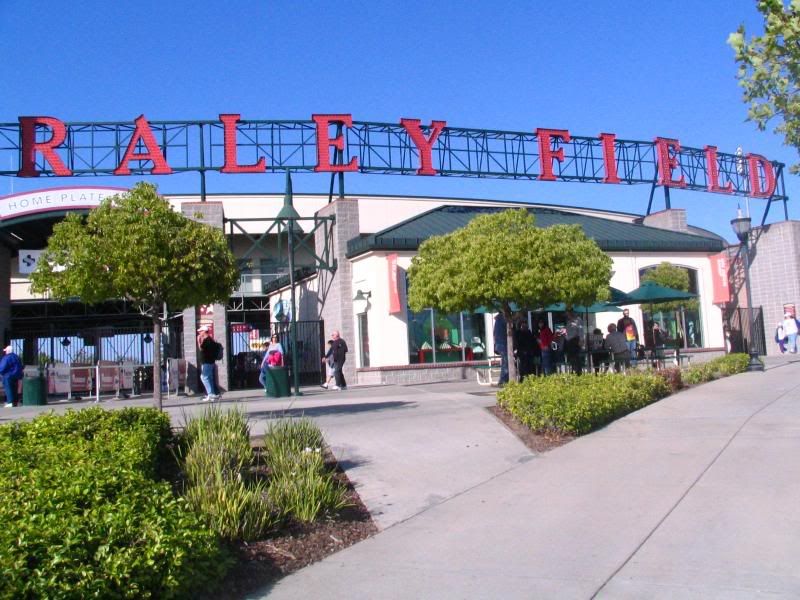 Before coming to Raley Field, I had heard many great things about this ballpark and I'm happy to report that I was not disappointed at all. One of the newer AAA parks, Raley Field has got to be one of the more fan friendly AAA yards. Having just wrapped up it's 10th season, it is one of the most visited AAA parks, and with a beauty like that, along with a friendly staff, and a friendly atmosphere, it's no wonder it consistantly ranks up their amongs AAA yards. It also helps too that the locals, the Sacramento River Cats, are consistantly on top in their league too.
My first trip here would be a treat in that it was photo day so I had a chance to go on the field and get some pics of some of the locals favorites
My first night here I got a front row seat behind 3rd base for $21 ( Try that in the bigs.....). Not only was it a bargain, but it offers one of the more scenic views of the skyline, highlighted by the landmark Tower Bridge. In some ways, you can say that this yard is sort of a mini version of Pittsbugh's PNC Park in that both yards are located near rivers and have a yellow bridge to anchor the view.
View from my seat
As I expected, it was a packed house, and the locals, many of whom were drapped in A's apparel, and unfortunately, some in Jints, I mean, Giants apparell, were an enthusiastic bunch, and the game between the 51's and the River Cats would go back and forth with Sac-Town finally prevailing 9-8.
When I have a chance, I like to visit a ballpark twice in one trip so that I can spend one of the games venturing throught the different views, and I had the chance to do that for the Sunday game. Since I was playing solo on this trip ( I tend to do that on many of my trips ), I figured I wouldn't have a hard time getting a walk-up ticket, and that was the case. On this day, I took advantage of the opportunity to walk around and take pics of the various views. One of my favorite features here is the grass berm beyond the right field fence. I've always had this thing for parks with grass berms, you know, coming to an afternoon game, getting a cheap seat, laying back on the grass and soaking in the sun . However, I must warn you that if you do opt to sit out on a grass berm in any ballpark, you may want to bring along a beach towel . The grass seemed to be very moist out there, and though I'd like to think that it was a result of the grass being watered that morning, well, I hope you get the picture.......
Raley Field is definately worth checking out. And if you happen to be a train enthusiast like me, you may also want to check out the California Rail Museum in nearby OldTown Sac, just across the bridge.
RALEY FIELD SLIDE SHOW
SAC-TOWN/CA RAIL PICS