My final stop on my ballpark tour of the Pacific Northwest from 9/2 to 9/4 I would find myself in PGE Park, home to the Portland Beavers, the Padres AAA affilliate.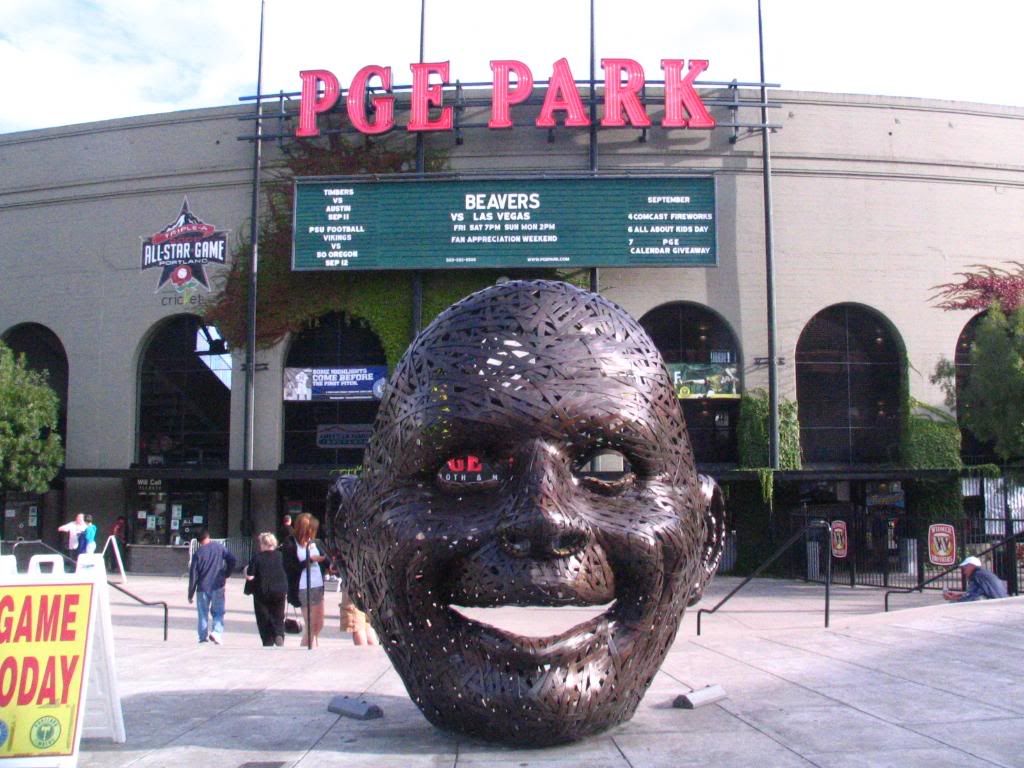 PGE Park , in the way it's incorporated, is, if there could be such a thing, Dodger Stadium and Wrigley combined. How you may ask ? Well, as for the Dodger Stadium feature, the yard is built in the surrounding land, so beacause of that, you really don't see much of it's exterior. As for Wrigley, other than the ivy walls and the manually operated scoreboards, a home run can actually be hit into the streets, provided one can actually clear the high wall out there.
In spite of it's old school charm and the neighborhood feel, PGE was the least favorite of the three AAA yards I visited this season. That's not to say I didn't enjoy my visit here. But with over 19,000 seats here, that's just too many for a AAA team, at least in my book. Heck , that's more than half the capacity of some MLB yards. The other thing that turned me off also was it's sheer size, many of the seats just seem to far from the action, not what you expect from a Minor League park. However, PGE should still be visited , and for that matter, the city of Portland as well. The yard is nestled in a nice hilly location with plenty of local breweries, and like any minor league park, you never know what future MLB player you may see next. Speaking of, as for this game between the Beavers and the Las Vegas 51's on the 4th of September, 51's catcher J.P. Arrencibia pretty much beat the Beavers on his own, smacking 2 3-run dingers en route to a 7-2 victory for the 51's. Perhaps maybe some day I can say I saw his hone his power before making the bigs ?